Could Aaron Gordon be a trade target for the Utah Jazz?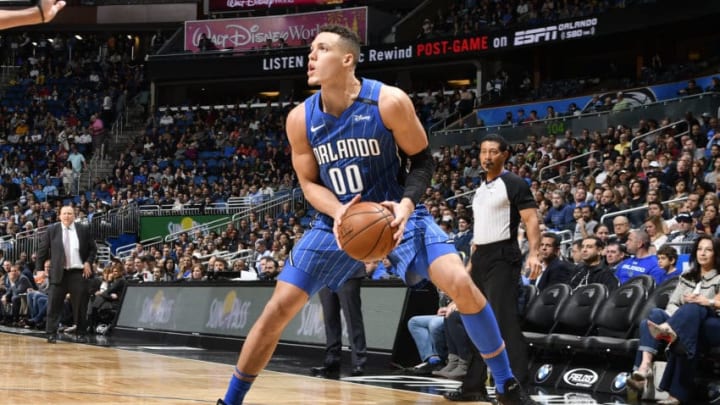 ORLANDO, FL - JANUARY 16: Aaron Gordon #00 of the Orlando Magic handles the ball against the Minnesota Timberwolves on January 16, 2018 at Amway Center in Orlando, Florida. NOTE TO USER: User expressly acknowledges and agrees that, by downloading and or using this photograph, User is consenting to the terms and conditions of the Getty Images License Agreement. Mandatory Copyright Notice: Copyright 2018 NBAE (Photo by Fernando Medina/NBAE via Getty Images) /
Aaron Gordon is the latest member of the Orlando Magic that is purportedly on the trade block. Could the Utah Jazz be a potential suitor?
Much like the Utah Jazz, the Orlando Magic are a team that has been mentioned several times as being open for business at the trade deadline this season. The struggling Magic have been down and out for a few years now and are clearly in need of a shake-up as they find themselves with some talent, but little cohesion and some very poor contracts.
Therefore, many of their players have been at the center of several trade rumors, including Evan Fournier, Elfrid Payton and Mario Hezonja. However, a name that many teams would likely find much more appealing surfaced today as one that the Magic could be looking to deal – Aaron Gordon.
According to a recent report from The Athletic's Michael Scotto, the Orlando Magic are "quietly gauging" the trade market for Gordon. This likely means that a trade is far from imminent, but it certainly seems to indicate that if the right opportunity presented itself, the Magic wouldn't be opposed to moving Gordon this season.
So while it may be a tall order, with such being the case and with Aaron Gordon being purportedly available, should the Utah Jazz look to make a push to obtain him?
It's no secret that the Jazz are looking for a playmaking power forward that would allow them to stretch the floor, and at just 22 years old, there's no questioning that Gordon has the skills, potential and upside to do just that. He's having a phenomenal season for the Magic so far this year in spite of the team's woes. He's averaging 18.4 points while nabbing 8.3 rebounds per game.
He started out the season shooting extremely well from deep (59.1 percent in five games in October, 39.8 percent in 15 games in November) but has since trailed off significantly. In the month of January, he shot just 20.5 percent from behind the arc. Still, his 34.6 percent three-point shooting for the season is a significant leap from last year, and his ever-improving touch from deep is a sign that he could certainly continue to get better in that aspect.
Not only that, but Gordon has the athleticism and versatility to score in a number of ways as a prolific offensive big. His six-foot nine, 220-pound frame makes him a tough cover on the offensive end while providing him with the size to challenge opposing teams' stretch-fours as well.
Some have considered him a "poor man's Blake Griffin". Though he isn't nearly the star that Griffin is, he has the potential to get in that same realm and at least this season he has shot the deep-ball even better than Blake.
But now for the tricky part. It's always fun to imagine a player that's potentially available in the trade market being magically plopped onto your favorite team, but that's just not how these things work. As the saying goes around the trade deadline, it takes two to tango. And especially considering that the Magic seem hesitant to deal Gordon unless they receive an out of this world offer, I don't know that Utah would have the right pieces that they would be looking for.
About the only player that the Jazz would be willing to move that Orlando might be interested in obtaining in a deal to help them long-term would be Rodney Hood. And it would take more than just a Hood-Gordon swap for that to happen. Gordon has been a far superior player and the salaries don't line up to allow for it either. One or more additional players would have to be included on either side for a deal sending Gordon to Utah and Hood to Orlando to work.
Perhaps the Magic could be swayed if the deal involved them receiving one or more picks from Utah AND allowed them to shed some salary. The Magic are in dire need of trimming out some cap space and could certainly make use of picks as they look to retool in whatever way possible.
The Jazz could potentially package together a deal consisting of Rodney Hood, Derrick Favors (mainly for his expiring contract) and picks for Aaron Gordon and the cumbersome contracts of someone of the likes of Terrance Ross or DJ Augustin, which would help Orlando dump salary. Ross and Augustin are likely making more than they're worth, but they still have some value that could balance out taking on their contracts, especially if it meant landing Gordon.
However, the likelihood of that deal happening would all depend on how much value in terms of draft picks the Jazz were willing to give up and how high Orlando was on Rodney Hood. I'm not the Magic front office, but I don't believe that they'd be so hasty to give up on a high-potential guy like Gordon for how little the Jazz could give in return. On the flip side, it's entirely possible that Utah wouldn't want to roll the dice on trading away their picks for Gordon.
A big reason for that is that Aaron Gordon is set to be a restricted free agent at the end of this year. Sure, if Utah traded for him, they could match any offer sheet headed his way and keep him, but the young man could very well be in for a hefty pay raise this offseason. That's not to say Utah couldn't afford that in their current situation, but if they're going to fork out a significant amount of their cap space, they'd better be pretty dang sure that he's the right fit for them moving forward.
On paper, it seems he would be that, but trading for him with just over two months to experiment with how he jives with the team would make for a pretty risky situation to extend him big bucks this summer. Could it pan out for the Jazz and resolve their stretch-four woes? Sure! But it seems almost as likely that it could backfire on them as well. Obviously, no trade is without its risks, so I'm not saying this should dissuade the Jazz entirely, but these are certainly things to consider.
In short, though, even if Utah is interested in Gordon, they may never even have to make a tough decision about whether or not they should trade for him, because the fact of the matter could very well be that they don't have enough to offer to pry him away from a Magic team that is so lost that they're likely just checking all possible options to help them get out of their dire situation.
Even if that's the case, I would suspect that Dennis Lindsey and the rest of the Jazz front office are doing more than their due diligence on checking the status of Aaron Gordon and seeing what it might take to land him. If an opportunity that feels comfortable arises, he could very well be one of their top targets, because from everything he's shown thus far in his career, his fit with the team feels like it would be exceptional.
Next: Utah Jazz rookie round-up: Donovan Mitchell is an elite scorer
Luckily, in six short days we'll know exactly what the Jazz are able to pull off at this year's deadline.