Donovan Mitchell stuns hometown as Utah Jazz defeat Knicks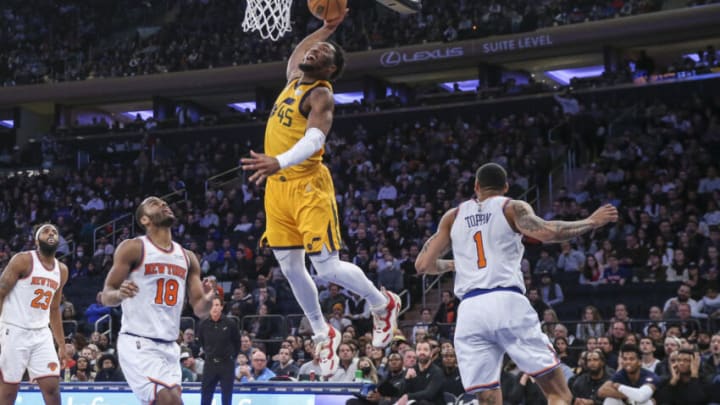 Utah Jazz guard Donovan Mitchell (Wendell Cruz-USA TODAY Sports) /
Rumors that Utah Jazz star Donovan Mitchell may desire to play in a bigger market have run rampant this season. If his hometown Knicks were trying to make a recruiting pitch last night, it probably fell on deaf ears.
After all, the Utah Jazz pummelled the Knicks by a final score of 108-93 in last night's action. Performing in front of friends and family, Donovan Mitchell was at the center of it all.
Utah Jazz star shines in victory
Mitchell finished this game with 36 points, 8 rebounds and 6 assists. He was remarkably efficient, shooting 11/21 from the field, 7/12 from deep and a perfect 7/7 from the freethrow line.
It was, in the parlance of NBA Twitter, a masterclass. Mitchell had his full range of offensive tricks on display in this one. In the absence of both Mike Conley and Bojan Bogdanovic, he stepped up accordingly.
As did several of his teammates.
Utah Jazz get well-rounded contributions
Jordan Clarkson continued making the case that yes, he can play alongside Mitchell. He finished with 23 points on 10/18 shooting from the field to go with 6 rebounds and 4 assists. He did finish 1/5 from three-point range, which has been a troubling trend this season. He was still outstanding
Other Jazz contributors to finish in double digits included Rudy Gobert (14), Royce O'Neale (14), and Rudy Gay (13). The Jazz have been benefiting from their depth all season. They can withstand absences from key players.
Especially when their defensive backline is as reliable as it is.
Utah Jazz protect the paint for 48 minutes
Rudy Gobert and Hassan Whiteside took a single field goal between the two of them in the first half of this game. That doesn't mean they weren't impactful.
In fact, the combined rim protection of the two bigs was the main reason the Knick were held to just 93 points in this contest. This offense relies heavily on Julius Randle's penetration: he was not welcomed in the paint against either of Gobert or Whiteside.
That Gobert would go into finish with 14 points, 9 rebounds and 4 blocks was only icing on the cake.
The Utah Jazz should be feeling good about a dominant win, but they've got little time to celebrate. They're up against New York's most competitive basketball team on the back end of a back-to-back tonight.