Utah Jazz: Vivint Arena to require proof of COVID vaccination or negative test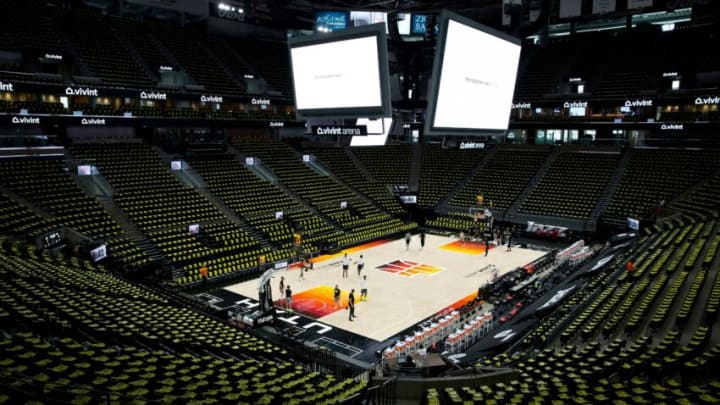 Utah Jazz (Russell Isabella-USA TODAY Sports) /
At Media Day, Utah Jazz General Manager Justin Zanik announced that every member of the team was fully vaccinated against COVID-19. In the spirit of maintaining a consistent organizational philosophy, the team's home Vivint Arena will require fans to either provide proof of full vaccination against the disease, or a negative test within 72 hours of the event's start time in order to enter the arena.
"As a community gathering place, we have a responsibility to protect our guests by putting health and safety standards in place" said president of Vivint Arena and the Utah Jazz Jim Olson.
"The delta variant is a threat to the sports and entertainment industry and our community at large. We ask Jazz fans to get vaccinated to help stop the surge. We stand with health care professionals on the importance of vaccinations. We believe this is the path forward to shut down this pandemic.
It seems the tension over differing principles regarding the vaccine that has marred some team's offseasons has not impacted the Utah Jazz. At least one of the state's doctors is appreciative of that fact.
"I am happy the Utah Jazz are taking the safety of their fans, players and staff seriously" said Dr. Leisha Nolen, state epidemiologist at the Utah Department of Health said in regards to the organization's policy.
"The use of vaccinations, tests and masks are all parts of a layered approach we have encouraged throughout the state. We welcome efforts to businesses to operate their events in a safe manner during this time of high transmission of COVID-19".
There will be an exception for fans under 12, as they are not yet eligible to receive a vaccination. Otherwise, fans will require either their physical CDC-issued vaccination card, a digital or photo version of it, or a digital or photo version of a negative COVID-19 PCR test result.
Whatever an individual thinks about the COVID-19 vaccine, it's safe to say that we all wish we didn't have to think about it at all. Still, for as long as we do, it's encouraging that the Utah Jazz organization as a whole is putting the safety of its community first.